Hello, and welcome back to the consistent Blaseball News Network series where we recap a whole Season at once. It's a bit of Hubris.
Blaseball is back, blabey, and with it comes a huge range of changes to the Splort. I'll do my best to describe them here… advanced apologies if I miss something important.
---
A New Schedule.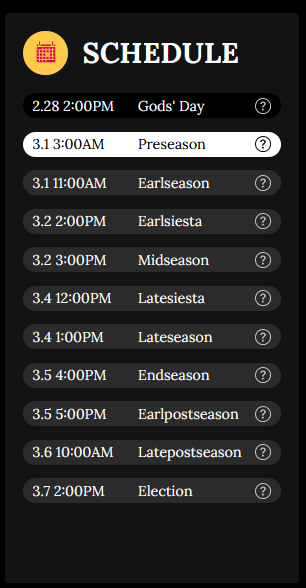 Season 12 brings with it a new pace for Blaseball, defined by the Season schedule and planned Siestas. Now, the action will play out on a three weeks on, two weeks off schedule, giving fans, Umps, and Players alike a nice mix of Blaseball playing and relaxation.

Inside of the Season, we now have numerous sections, separated by the Earlsiesta on Day 27 and the Earlsiesta on Day 72. In addition to being a nice hour break in the midst of a busy week, these Siestas also bring Season-altering implications we'll get into later.
---
Chorby Short Breaks Blaseball
Bright and early, on Day 1 of the Season, Chorby Short of the Yellowstone Magic hit… a lot of Foul Balls. And kept hitting them. Over and over. In fact, thanks to a weird combination of 0 No Blood Type, their own inclination to always swing, and plenty of matchups with strong opposing pitchers, Chorby set a new record.
2,345 foul balls in a Season.
Read more about Chorby and their Foul Ball antics in our short article written by q!
---
The Black Hole Hides Secrets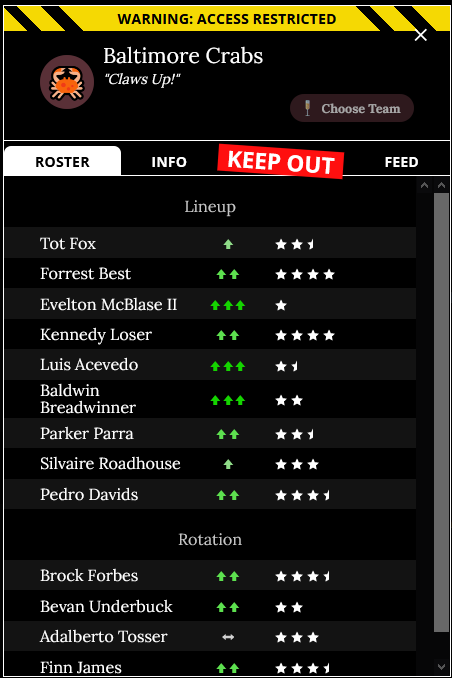 Very early in Season 12 competition, it was discovered that the Black Hole Weather held a secret within. It was the 3-Time ILB Champion Baltimore Crabs, the strongest Team that Blaseball as we know it has ever seen. Of course, they were surrounded with mysterious warnings and even a big KEEP OUT, which held information on a Ballpark within.
Breach Imminent.
Within moments of the Earlsieata of Day 27, something was different. Somehow, Baltimore Crabs fans had access to their Ballpark, and were able to Plant a Flag by dedicating one million Coins to its construction… in under 15 minutes.

What this meant, we weren't yet sure. We'll get there, but we have something else to talk about first.
Plumbing Issues Abound
Starting on Day 70, and becoming even more of an issue on Day 71, the Flooding Weather type appeared around the League. Appearing on the Place Bets page for the next Days games, the Weather changed to Black Hole Weather as soon as the Games began proper.
The source of this flooding was discovered on Day 72, the Latesiesta.
CLAB DOWN (and friends).
The All-Time-Greatest-Team-In-Blaseball, the Baltimore Crabs, had returned, and brought three new Expansion teams with them. We're not exactly sure where they came from, but all of them have at least three Championship wins attributed to them. Some even have four! We look forward to observing the effects these new friends have on the ILB.
---
The Finals.
Yes, we could talk about the incredible feats of both Wild Card teams making it through their opponents (Congrats to the Shoe Thieves and Wild Wings!) or yet another round of Tigerbeams (Hades Tigers vs. Hellmouth Sunbeams) in the Wild League Championships, but we're here for all the marbles.
The stage was set for an epic battle between the Hades Tigers, two-time Internet Series Champs, and the Seattle Garages, fresh off of their Takeover and vinyl release. And what an epic battle it was.

The Garages handily won a completely normal Game 1, taking an early lead by two runs.

In extra innings, the Hades Tigers struck back with a win (by two runs, of course!) to even up the First To 3 Series.

Following another intensely close battle, the Garages pulled ahead in the Series 2-1. Of course, another win by two Runs.
With just one more Win needed for the Garages to take the whole Series, we went on to Game 4.

Oh.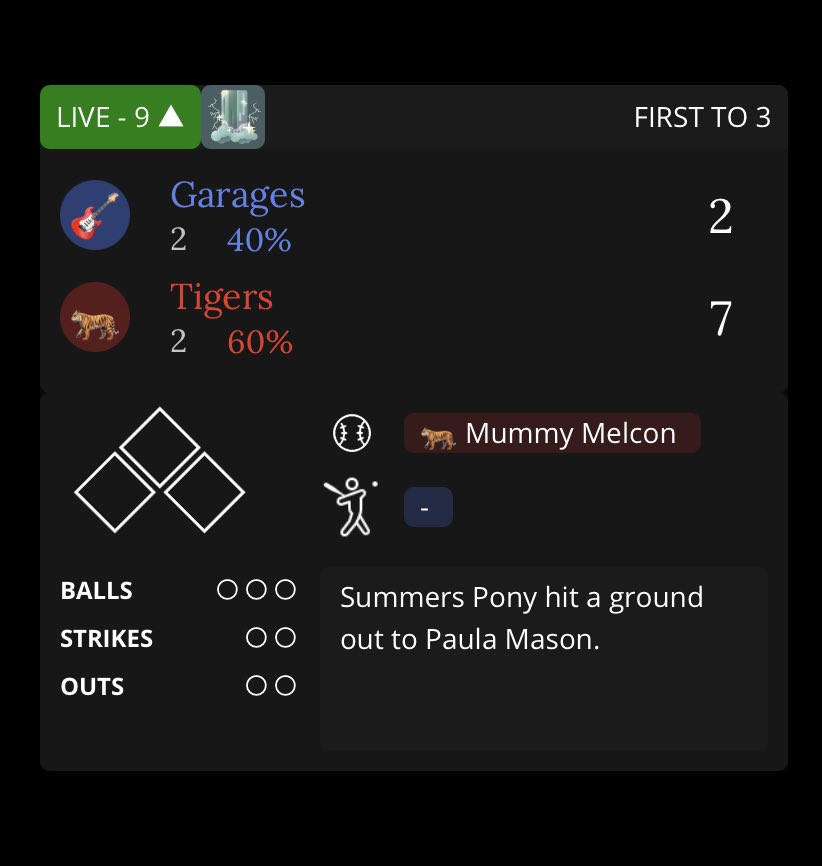 Just like that, with two quick and dominant victories by the Tigers, after three very close back-and-forth Games, it was over.
The Hades Tigers became your Season 12 Blaseball Champions! Congrats to the team.
---
RIV.
Before I end the recap, I'd like to pay tribute to the two Blaseball Players who passed on to the Hall of Flame this Season.
Welcome to the League, Gita Sparrow and Roscoe Sundae!
---
That's all folks.
Thanks for stopping by yet another Full Season Recap, the first of its kind since the Grand Siesta! I hope you enjoyed it.
Congrats again to the Hades Tigers for their glorious win!

Remember… the Commissioner is always doing a good job.